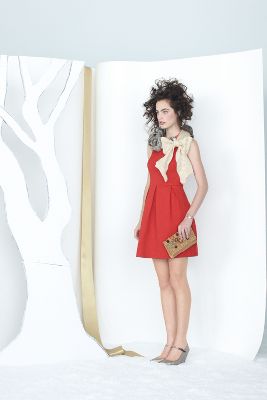 Снег полежал до конца октября, а потом расстаял. Тем не менее Новый год уже через каких-то полтора месяца, и у меня начинает появляться то самое волшебно-препраздничное настроение. Чтобы поделиться им с вами, хочу показать замечательные фотографии из ноябрьских лукбуков совершенно разных по духу и по стилю брендов:
Anthropologie
и
Free People
. Лукбуки последнего у меня давно в любимчиках,
Anthropologie же открыла для себя недавно. Оказывается, они тоже снимают прекрасные истории. Старые добрые сказки оказались особенно популярны в зимнее время, они стали общей т
емой ноябрьских этих двух лукбуков. На мой взгляд, отличная идея и прекрасное воплощение. Какиx принцесс вы узнали на этих снимках?
We had snow only until the end of October and then it thawed.Nevertheless New Year will be already in a month and a half and my mood become holiday-like more and more. To share it with you I want to show splendid photos from the November lookbooks of brends with totally different style and philosophy:
Anthropologie
and
Free People
. I keep my love to the last one for a long time, but
my
acquaintance with
Anthropologie hasn't occured so long ago. Now I know that it make wonderful stories too. Old favourite fairy tales are especially popular in winter time, they became the common theme of these two lookbooks. In my view it is great idea and amazing realization. Did you guess any princesses on these pictures?